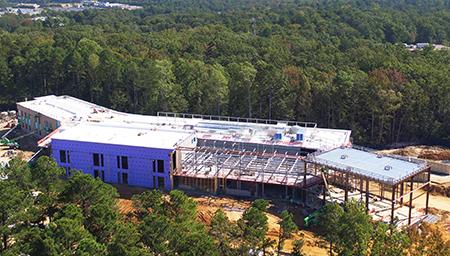 Progress continues on construction of the new Southern Maryland Autonomous Research and Technology (SMART) Building at the University System of Maryland at Southern Maryland (USMSM).  
This $86 million, 84,000-square foot academic and research facility, slated to open in Fall 2021, will be transformative for USMSM and for the broader Southern Maryland region.
The academic half of the new SMART Building will nearly double the educational footprint of USMSM.  In the new state-of-the-art classrooms, students from across the Southern Maryland region will have enhanced access to in-demand educational programs, giving these students the opportunity to live, work, and study close to home.  
The innovation half of the SMART Building features an autonomous technologies research facility, which will include underwater, air, and land testing capabilities. The facility will make the University System of Maryland at Southern Maryland the USM's only regional higher education center with a research component.
Construction on the new center began in Fall 2019.
The new facility is also expected to be a catalyst for economic activity and job growth in the region. St. Mary's County is home to several important economic assets—including the St. Mary's County Regional Airport and Naval Air Station Patuxent River—as well as defense contractors, tech companies, and the business technology incubator, TechPort, which all combine to create a burgeoning "Innovation District" fostering an emerging research-and-development economy in Southern Maryland.
"This is an especially rewarding time to be at USMSM," said Executive Director Eileen Abel, who started in her role last December. "It has been exciting to see the construction progress on the new center, and to be keenly aware of what it will mean for our students. But it will also do much to contribute to the knowledge economy here in Southern Maryland and greatly enhance our current programs from our partner institutions.  After enduring such a difficult year, I now see so much promise ahead for both USMSM and our region."
USMSM is offering programs at both the bachelor's completion and graduate levels to help meet the region's workforce needs. While the new building will be a catalyst for economic development, other disciplines such as education, business, and social work are also offered because they are in such high demand.
When completed, more than half of the new facility will be comprised of special UAS research and engineering space but will also include a total of 16 flexible classrooms available to host both classes and other training and professional events.
The new building will also leverage and provide additional prominence to the wide range of academic and professional programs already offered at USMSM.  And Abel and her team are working closely with partners like the College of Southern Maryland to get students into the postsecondary pipeline and offer residents work-based training that leads to high-demand, high-paying jobs. The addition of the SMART Building means there will be more classroom space to enroll local learners, especially underserved and underrepresented students.
Unlike other regional higher education centers in the system, USMSM also boasts a major research component through a partnership with the University of Maryland Unmanned Aircraft Systems Test Site.
To assist with the expansion of the autonomous technologies industry in Southern Maryland, and help address other workforce needs, the University of Maryland, College Park began offering an electrical engineering program in fall 2016.  The new building fully supports the specialized research space needed to conduct flight testing of unmanned aerial systems and other research activities.
The facility will offer the high-bay space of 20 foot ceilings required to test unmanned aircraft. The research conducted at USMSM will take place in tandem with testing programs conducted by the U.S. Navy at Naval Air Station Patuxent River. USMSM estimates that, within eight to ten years, research revenues from this collaboration could range from $3,000,000 to $5,000,000 per year.
"We're grateful for the capital budget support that enables the USMSM's growth and enhances its education and research capacity," said USM Chancellor Jay A. Perman. "It's unique to have a building that's so central to both missions—on the academic side, allowing us to educate more Southern Maryland students, and on the research side, providing the kind of state-of-the art space USMSM needs to pioneer unmanned systems technology. This is a really exciting time, not just for the regional center but for the region itself."
Originally established as Maryland's oldest higher education center, USMSM currently hosts education programs sponsored by seven universities, including five USM institutions. The USMSM is an asset to the Southern Maryland community, providing residents, businesses, and local governments with both an educational resource and a hub of economic development.